The importance of proper nutrition
Human nutrition refers to the provision of essential nutrients necessary to support human life and health.
Poor nutrition is a chronic problem often linked to poverty, poor nutrition understanding and practices, and deficient sanitation and food security. Lack of proper nutrition contributes to lower academic performance, lower test scores, and eventually less successful students, a less productive and competitive economy. Malnutrition and its consequences are immense contributors to deaths and disabilities worldwide. Promoting good nutrition helps children grow, promotes human development and advances economic growth and eradication of poverty.

On these pages you can read about epigenetics and epigenitic diet. The pages are updated regularly. Read here
Live a healthier and longer life with the medical science and technology needed to prevent disease
Medforsk offers the most advanced medical examinations combined with genetic analyses and lifestyle assessments. Using our world-leading concept, we can map out your health today and evaluate risk factors that can become a threat in the future. The preventative healthcare we offer gives you the best foundation for a healthier and longer life.




The founder of Medforsk, Sverre Paaske, began in the 90s researching systems that can provide information about the body's state of health.
Read more:



CWB technology provides a unique interface for the collection and assessment of bio-information from cell samples (hair root) and the characterisation of personal data derived into a report.
Bio-information is carried in the weak electromagnetic field emissions from cells, tissues and organisms.
Read more:
Copenhagen autumn/winter 2016-2017
Medforsk begins a new study involving analyses and improvement of peoples actual health. The aim is to measure and improve the health situation using state of the art equipment and nutrition based on epigenetics.
The test utilizes CMS system, S-Drive hair analysis and spectroanalyse of the food that the participants consumes. Are you interested in participating please contact: sverre@paaske.se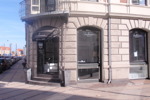 Medforsk uses the services of Paaske Health Analytics in Sweden under the supervision of Sverre Paaske. We are situated in Lene Hansson Wellness Center from October 2016. We will carry out extensive tests and we will use epigenetic dietary supplement and nutrition. Food, proper nutrition and diet counseling becomes an important part in the test and research in subsequent months.

Lene Hansson Wellness senter, Holbergsgade 24, ved Nyhavn, i København